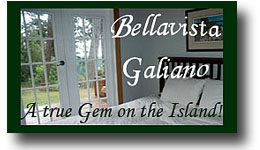 Bellavista Galiano
Amenities:
Waterview, Forest, Children OK, E-Transfer, Fireplace, Kitchen, Private Bath, TV, Private Entrance, Self-contained
Bellavista Galiano is a log cabin lovingly restored, renovated and expanded to become the perfect place to rest and enjoy nature in all her glory. You can hike, bike, kayak, boat and bond whilst staying here! This 680 square foot retreat has two bedrooms, each with comfortable queen bed. New three piece bath has a walk in glass shower.
The main living area is expansive and open, new furniture for lounging near a wood burning cast iron stove. There is satellite TV. A large dining area overlooks the ocean. A new, well equipped kitchen with many staples on hand, meets the needs of the gourmet cook.
Surrounding the cabin is 500 square feet of decking with built in seating, a gas barbecue, outdoor dining areas and lounge furniture. This is the prime spot to enjoy 7 lush acres of west coast woodland with an unobstructed panorama of the ocean and neighbouring islands. Put your feet up, pull out a good book, and soak up the sun.
The property is wooded, parts of which feature old cedar trees up to 14 feet in diameter. Gorgeous firs, maples, hemlock, arbutus and others abound. However, two acres around the cabin are cleared with open area for games and viewing. There is a wide open space for kids of all ages to play games. When you get tired, you can sit and watch the birds bathe in the ponds.
Outdoor activities abound. You are within walking distance of several trails leading to the ocean or biking distance to spectacular Dionisio Provincial Park. (We provide three bikes.) The Island features a multitude of trails, beaches, lakes and spectacular views, most within walking distance. Please note, our 3 day minimum is flexible and applies only to a few prime weeks of the year.
A car is needed as we are located about 14 Kilometres from the ferry. Morning ferries from Tsawwassen on the Mainland or Vancouver Island are recommended for ease of arrival and check-in. Normal check in time corresponds with morning arrivals, and check out can be arranged for late day departures. There are also several airlines that land daily on the Island from Vancouver and Victoria. Ferry and airline reservations are recommended. Information is available on request.
Galiano Island has two grocery stores which sell liquor, a produce market and several great cafes and restaurants, a spa and yoga and other wellness services. Information on many facilities and activities are on site