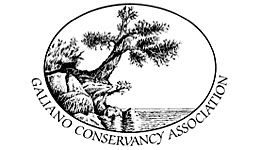 Eco-Tours Galiano Conservancy Assoc.
---
---
Mailing Address:
RR1, Sturdies Bay Road Galiano Island, BC V0N1P0
---
E-mail:
communityedu@galianoconservancy.ca
---

ECO-TOURS
Our experienced educators take groups large and small out to explore and learn about Galiano Island's incredible natural areas. There are different lengths of time to choose from, and programs are suitable for all ages. Have fun while learning about Galiano's forests, intertidal (beach) areas, ridgetops, wetlands and more. You choose what you want to see and we'll take you there!
The HISTORY of the Galiano Conservancy
Formed in 1989 as an instrument for community-based land acquisition, management and conservation of habitat, the Galiano Conservancy is a broad-based non-profit organization devoted to land and marine conservation, stewardship and restoration, as well as devoted to environmental education and public awareness. While land protection for conservation remains an important part of the Conservancy's mission and work, it has recently acquired a large property and land in order to create the Galiano Learning Centre, which focuses on:
1. Providing action-oriented experiential education in areas such as:
sustainable agriculture and food security
ecological restoration
renewable energy
species at risk
conservation planning and mapping
2. Restoring damaged ecosystems
3. Demonstrating ecologically sustainable ways forward, increasing our wider
community's knowledge base around food security, renewable energy and
sustainable living practices, and species and habitat conservation