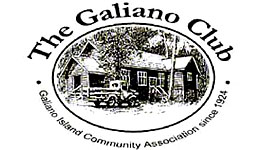 The Galiano Club

Amenities:
Children OK, Smoking Restrictions, Village, Restaurant(s), Internet, E-Transfer, Kitchen, Wheelchair Access
The Club, founded in 1924, manages the Galiano Community Hall (see Hall Calendar), the Nature Preserves of Mt Galiano and Bluffs Park (visit the Japanese Charcoal Pit Kiln) and the Community Forest - in all 830 acres. The Hall, with a 135 person capacity (seated concert style), 105 seated at tables and 255 standing, fully equipped kitchen, is available to rent for Weddings and special occasions. The Club sponsors Cinema Galiano and is home to the Galiano Players.
The Club founded the Community Food Program in 2008. The Program promotes food sustainability and security through workshops, a garlic growing co-op, Galiano Community School Garden and food related curriculum, community pot luck dinners, Soup and Bread Luncheons, Food Festivals, gleaning, a public greenhouse and through distributing nutritious meals to the community.
Annual Galiano Club larger organised events include Nettlefest Pot Luck Dinner (March or April), the Blackberry Tea (October), coordinates the Community Pot Luck Picnic (September), the Christmas Fair (December) and the Winter Solstice Pot Luck Dinner.
For more information please see our website @ www.thegalianoclub.org The Galiano Club is a non-profit registered charity.