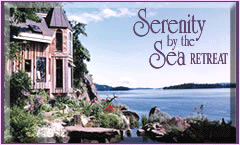 Serenity by the Sea Retreat
---
---
Mailing Address:
S42, C14, Galiano Island, BC
---
---
Amenities:
Waterview, Forest, Waterfront, Children OK, Smoking Restrictions, Internet, Credit Cards, Fireplace, Hot Tub, Kitchen, Private Bath, Private Entrance, Self-contained
PRIVATE 2-storey waterfront haven, woodstove & large deck, perfect retreat in Nature. You can Relax|Recharge|Refocus|Create. Nestled among trees on a knoll overlooking the ocean. Enjoy vibrant gardens|creek & ponds|labyrinth|art gallery & our bathtub by the sea! Seeking a romantic getaway with a friend? Count on a quiet nurturing time. Enrich your visit with a relaxing massage, yoga & Reiki.
Rejuvenating waterfront haven.
Relax & recharge batteries with 3/4 days enveloped by the embrace of forest and gardens.
Nurture your body with Serenity's very own Core Relaxation Massage|Serenity Reiki & wellness services.
This is our specialty.
Our Guestbook:
"Whatever you think you're coming for is one thing.
What you go home with is much much more." Lynn
"The opportunity to go inside and breathe in the peacefulness of this very special place has truly been a joy to me." Candis
"I never imagined such calm isolated wonderful natural place like this." Avner
"Truly a place of serenity, natural beauty, love and ultimately—inner healing." Michael