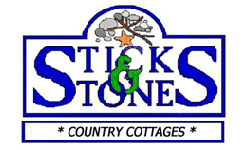 Sticks & Stones Country Cottages
---
Location:
300 Sticks Allison Road East
---
Mailing Address:
S14 C9, Galiano, BC, V0N1P0
---
---

Amenities:
Forest, Pets OK, Children OK, Smoking Restrictions, Internet, Credit Cards, Fireplace, Kitchen, Private Bath, TV, Private Entrance, Self-contained
Two self contained, modern cottages, nestled in a wooded setting and adjacent to a beach access can be 'your home away from home'. Suitable for couples and families. Pets and children are welcome. A complimentary Galiano Tourist Map is provided.