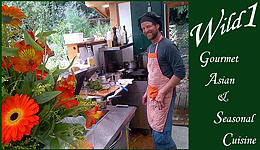 Wild1 Gourmet Asian & Seasonal Cuisine
---
---
Mailing Address:
96 Georgeson Bay Road Galiano Island, BC
---
---

Amenities:
Children OK, Village, Restaurant, Credit Cards, Interac
WE ARE RE-OPENING ON
Saturday March 21st 2015 - Stay Tuned for more details coming SOON!!
Well-known Galiano Local Chef Orion Finnie has created a favourite dining experience with a cool mixture of Thai cuisine such as his famous "Pad Thai" noodle dishes with yum yum sauce, Thai Green and Yellow Curry, Vietnamese Spring Rolls, Skewers and a selection of super fresh Asian and seasonal recipes (daily special) made with local ingredients whenever possible. There are rich desserts too.
Orion also makes his own wonderful homemade soups at Galiano Island's Wild1 outdoor restaurant.
"Wild1" is located at 96 Georgeson Bay Road, next door to the Daystar Organic Market and opposite the Corner Store. We are #71 on the Galiano Brochure & Map. The restaurant opened June 24th 2014.
Reservations are recommended, please call us at 250 539 2999 and we welcome our customer's comments and feedback at our 
Galiano's Wild1 is often pleased to host our local Galiano musicians.
The restaurant is outdoors,with heated covered areas and toilet facilities.
Orion Finnie (the owner) was born and raised in Goa, India and spent many years cooking in Ibiza.,(Balearic islands) Spain, with Thai people in a popular restaurant known as " Bambuddha Grove".
Check out the REVIEWS...
"Wonderful Thai and other treats"
Although this is a new business on Galiano the chef previously worked at the La Berengerie, also on Galiano. The menu is limited but the food is wonderful: fresh, tasty and in reasonable portions. I especially recommend the Pad Thai although everything is wonderful. They will make the food to go so you can drive down to one of the many beautiful beaches and enjoy your food, or you can eat in their outside dining area which is rustic but clean and pleasant, nestled in the woods.
Their hours are limited and they are closed some weeks during the winter so you might want to check in advance when they'll be open.
Definitely a place to eat when visiting Galiano.
- Jim, Vancouver
"Beyond Expectations"
"The Brunch Huevos Rancheros were the best we have ever tasted. The flavour combinations at this magnificent little food stand are more than anyone could ever expect. And the YumYum sauce.... I can't put into words! That should be commercially bottled! If it wasn't for all the work it takes to make!!! It was amazing!"
- AJBentley_11, Alberta
"What Great Food"
"A great cook can make great food anywhere! Seriously, we eat a lot of Thai food in Portland and this guy's pad thai and green curry at Wild1 was better. It was like tasting these dishes for the first time. Fresh, fresh and some different ingredients made a fantastic late lunch."
- Janek51, Portland Oregon