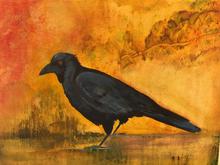 The Meadow Art Studio
Location (Street Address):

Amenities:
Forest, Smoking Restrictions, Village, Restaurant(s), Internet, Credit Cards, Interac, E-Transfer
Visitors say this is a "must see" while you are on Galiano Island!
Maggie O'Shaughnessy is best known for her use of color, detail and texture both in her encaustic work, ink and also in her acrylic paintings. Her work has been described as expressive impressionism, evoking buried emotions in the viewer. She has painted since childhood, and for the last several years she has studied in New Mexico focusing on variations in the encaustic medium: beeswax and solvent mixed with oil paint. She is a member of the Southern Gulf Islands Artist Council, the Canadian Federation of Artists and the International Association of Encaustic Artists. A world traveller since leaving her small village in Newfoundland, the sea is a common theme in her work.
You are invited to visit a working art studio and to browse through finished paintings offered for sale. Encaustic— you will be fascinated by Maggie creating unique encaustic hot wax work combining multiple layers of beeswax, and oil paint, then using a blow torch to fuse. Or perhaps you have heard of cold wax which is oil paint, beeswax, with a cold fusing process. Exceptional acrylic work is also available in her same style— emotive, high texture, with high pigment colors.
A talented and creative artist, Maggie has travelled the world extensively learning from masters and developing her own style by skillfully combining difficult fusing processes. The colors of nature can be seen in her work. In anticipation of an early spring, Maggie has been working on a new series of ink paintings: The Garden. It is a lucky artist who can live and work in paradise, right here on Galiano Island.
www.instagram.com/themeadowstudioandgallery 
www.facebook.com/galiano.artist/  
galianoisland.com/meadow-art-studio-gallery 
Visit:  The Meadow Art Studio & Gallery,  294 Ellis Road, Galiano 
Contact:  1-236-987-2472      tumbledowncottage@hotmail.com