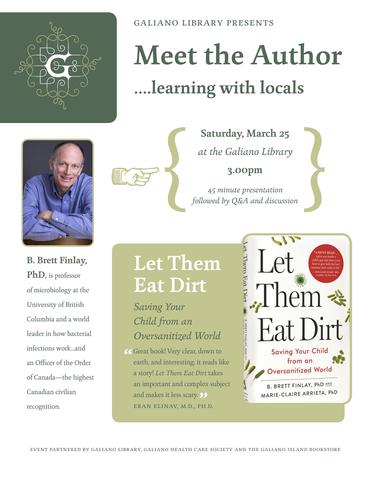 Let Them Eat Dirt, saving your child from an oversanitized world by Brett Finlay
Fascinating research and presentation by Brett Finlay on Saturday March 25th, at 3 pm at the Library.
Brett will be a familiar face/name to many as he is a part-timer with several properties here on Galiano Island. Brett is often interviewed/quoted on CBC radio. Another presentation  in the Library's Learning with Locals series.
His recent book "Let them eat dirt" directly addresses recent research in developing and maintaining children's health: http://letthemeatdirt.com/
See http://finlaylab.msl.ubc.ca/about/ for more information about Brett and his credentials.
This reading is partnered by Galiano Island Library, Galiano Health Centre, and Galiano Island Books.