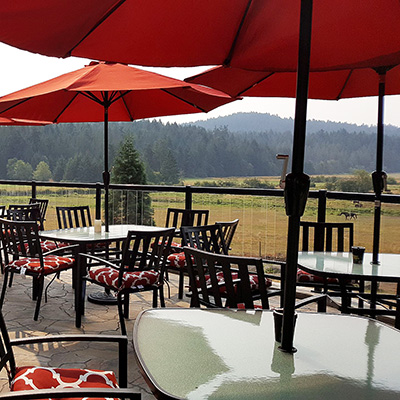 Woodstone Manor
Amenities:
Pastoral view, Forest, Pets OK (some restrictions), Children OK, Smoking Restrictions, Shops, Walking Trails, Restaurant(s), Internet, Credit Cards, Interac, Disabled-friendly, Fireplace, Outdoor Fireplace, Outdoor Patio, Private Bath
COMPLETELY RENOVATED IN 2018
Set on 9 acres of private forest land, Woodstone Manor is a magical place to enjoy a romantic getaway. With only 12 rooms, it's the perfect size for an intimate wedding or to gather with family and friends for a celebration. It's also ideal for group or corporate retreats. The Woodstone is truly a special place. The minute you turn off the main road, our driveway takes you deeper into a world of quiet and seclusion where you leave behind all that city stress. Just listen to the silence and you'll immediately feel yourself relaxing and rejuvenating.
ROOMS The house has twelve luxurious bedrooms with all new tile ensuites and incredibly comfortable beds. One guest enthused in his review: "The bed was truly to die for. Like the best bed I've ever slept in"! New wood floors with gorgeous throw rugs downstairs and bright, lush carpeting upstairs make the rooms so inviting you'll not want to leave!
MAIN PATIO When you explore the house, you'll find our fantastic outdoor patio. The beautiful stone patio boasts a gorgeous wisteria and overlooks a pastoral scene of old. Uninterrupted acres of farmland extend before you. You'll see horses grazing and cavorting in the fields, shy deer passing by, and eagles drifting lazily overhead. It's the perfect place to unwind, to reconnect, to just "be". The patio's fireplace is a focal point of enjoyment in every season. Gather round with a guitar in one hand and a glass of wine or a mug of hot chocolate in the other!
SITTING ROOM Our cozy sitting room with fireplace is an excellent place to curl up with a good book or play board games. You'll find self-serve coffee and tea available 24/7 in the dining room whenever you need a cuppa!
LOCATION Woodstone Manor is centrally located in the southend of Galiano, just a 5-minute drive away from Sturdies Bay Ferry Terminal. Another 5-minute drive takes you to the beautiful beaches of Montague Harbour Provincial Marine Park and the Marina with its amazing outdoor activities, shops, and restaurant. You can also easily walk to stores, eateries, and the Hummingbird Pub from the Woodstone.
We have dedicated much love and energy in renovating the Woodstone to be a home away from home. We have considered the smallest details that might make your stay with us more memorable. Come for a visit and let us know how we've done!
We look forward to sharing our home with you.
---
THOUGHTS FROM SOME OF OUR GUESTS  
"Had the good fortune of staying with Roxy and Stephan this past weekend. Great folks, treat you like family. They have done alot work at Woodstone and have alot of great ideas for the future. ... we'll be going back for sure!!" – cliffmhagel hagman
"Absolutely a fantastic place to stay! The owners are terrific hosts and make you feel right at home. Beautiful country inn in a wonderful location." – Patrick Shaw
"This hotel is a gem! Clean, fresh, cozy and friendly. Roxy is a hoot and took very good care of us, even remembering our anniversary."  – Philip
"Beautiful, classic decor; Roxy and Stefan are the most pleasant, gracious and accommodating hosts. Enjoy a peaceful pastoral view from your own private space, from the huge shared deck facing south, and from the large windows of your bedroom. Strongly recommended."  – Judy