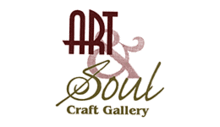 Art & Soul Craft Gallery
Location (Street Address):


Amenities:
Children OK, Village, Credit Cards, Interac
Art and Soul Craft Gallery is a long established Craft Store and Art Gallery located at the south end of Galiano Island in the same complex as Babes in the Woods and the new cafe Bowline!.   Art and Soul carries a wide selection of local artists and craftspeople as well as Galiano and Native Art Clothing and Galiano Souvenirs. Please check out my website, I will gladly ship anything that isn't breakable or if you are on Galiano please stop by. 
Galiano Creations, handmade crafts by owner Sandra Froese are also available instore as well as online at her Etsy Online Store
Due to the coronavirus pandemic I have temporarily closed down my shop for the safety of myself and my community.  I will ship anything that isn't breakable, our post office is still open but with limited hours.  Also, buy a gift certificate for later shopping.  Email me at slfroese@gmail.com to process an email transfer or I can also process a credit card no., email me or phone 250-539-0736.  Also, be sure to follow me on Instagram and Facebook for updates.  I look forward to seeing you again when I am able to reopen my store.  Thank you.