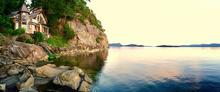 Serenity by the Sea
Location (Street Address):

Amenities:
Waterview, Forest, Waterfront, Children OK, Smoking Restrictions, Internet, Credit Cards, E-Transfer, Hot Tub, Kitchen, Private Bath, Private Entrance, Self-contained
Serenity by the Sea is waterfront haven, perfect for a healing retreat in Nature. Time to unplug and rejuvinate? Nestled among trees on a knoll overlooking the ocean with vibrant gardens, cascading creek into the ocean and a cliffside jacuzzi you are sure to unwind and feel renewed just by the nature alone,recalibrating your nervous system to a more harminious and balanced rhythm. You can count on a quiet nurturing time. Enrich your visit with a Traditional Hawaiian Massage, Shamanic and Sound Healing, Deep Tissue Restructuring Massage, Reflexology, Energy Healing, Life Coaching and other wellness options.
"Whatever you think you're coming for is one thing.
What you go home with is much much more." Lynn
"The opportunity to go inside and breathe in the peacefulness of this very special place has truly been a joy to me." Candis
"I never imagined such calm isolated wonderful natural place like this." Avner
"Truly a place of serenity, natural beauty, love and ultimately—inner healing." Michael